iPad hire service por companies with events in Madrid, Barcelona or anywhere in Spain
Do you need iPads for a marketing or corporate event? We have been offering a comprehensive iPad rental solution for more than 12 years at the best prices with the highest quality so you can run an attractive and successful event.
---
Rent iPads for events: a service for your success
The iPad has become a powerful tool that empowers the success of professional events and projects of any kind and size. Our iPad for hire customers appreciate more and more the charm and efficiency brought to their events by the iPads from our tablet hire. The iPad is the perfect tool to make your events shine, some examples:
Conferences
Trade shows and displays
Live voting
Catalogs
Data collection
Meetings
Scavanger hunts
Check-ins
Presentations
... and much, much more with just one or hundreds of iPads.
---
Why hire iPads?
Renting and iPad gets you more appeal for the audience of your event or project and improves the quality and efficiency of your work. The iPad is a versatile general purpose hight-tech tool that also happens to give you, as an event organiser, a headache-free experience difficult to match. iPads make better events and don't get in your way.
Compared to buying, hiring iPad tablets (one or many) will allow significant savings on your event.
Maintaining a stock of iPads and manage inventory and configuration of each device it's hard work that might be not the core of your business.
The setup and configuration of a big batch of mobile devices for events it's also an issue to think about when renting vs. buying
The purchase, setup and management of 4G sim cards and lines it's also an issue you have to consider. In our iPads rentals it's just and option you add to your project.
You will probably need initial and/or continued technical support from within your company if you buy. When renting, we answer all of your technical questions over the phone and can arrange for technical support on site if requested.
---
iPad hire with apps and software solutions for you whole event
No doubt the iPad is one of the best things that had happened to events in the last few years. The App Store, which allows access to millions of apps, it's a big part of that success.
The quantity and quality of the apps and software solutions available to events of any size is over the top. We can advice you on what are best available solutions for your use case and your audience. We want your iPad rental to be the best it can be for your customers, visitors and/or employees.
Visit the App Store and you can see all the apps and services you can install in your hired iPads. Do you build your own apps tailored to your needs? Not a problem! Our clients use our tablets to show interactive catalogs, check in visitors or customers, for live polling at conferences or to interact with the visitors to their trade show booth. All of this using apps specifically built and tested for iPad.
---
The iPads from our tablet rental service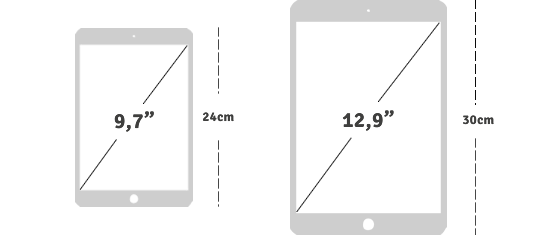 The iPad has an extraordinary 9.7" screen in its standard model and 12.9" on the iPad Pro. Handling these iPads feels great. You'll enjoy perfect connectivity to the Internet and to your local corporate networks with our tablet hire. Renting the Pro is ideal when you need a big screen to show your work.
iPads of any size come with an impressive array of features including wireless printing, great frontal and back cameras, bluetooth, speakers, easy file exchange, voice recognition, geolocation and GPS, high compatibility with 4G and 4G networks all over the world and much more!
Battery life is crucial and deserves a special mention because there's no other tablet that has a better battery life than the iPad. Which is a critical area in our experience using iPads in all kinds of events.
We make available different iPads for rent models to cover every requirement: iPad (6th generation), iPad (5th generation), iPad Air 9.7", iPad Air 2 9.7", iPads Pro 12.9", 11" and 10.5", iPad Mini 7,9", ARkit compatible models, HDMI adapters and Apple Pencil.
---
Internet connection through WiFi and 4G/LTE
Our iPads can connect to any WiFi network made available by the organizer or can be "always-on" on the internet through a mobile service carrier in via the best GSM networks in Spain and Europe. Every iPad, if you opt for the service, comes with a data sim card.
Each option has its pros and cons. In events in big event locations like trade show pavilions, other spaces for hire and hotels you can usually find wifi networks ready to use with the devices. Setting up the tablet to connect to any wifi networks is easy and doesn't require technical knowledge.
For outdoor events (like polls and gymkhanas) or in spaces without wifi coverage you can order your tablet rental with optional 4G data plan simcard. It's important to notice that the quality of the connection depends on network coverage and is advisable to make sure there is coverage for your event specially in small towns and in in sub-levels or basements.
---
Hire iPads anywhere in Spain
Please let us know where do you want to receive your iPads in Spain* and the dates that you need them. When you request a quote for iPad hire please tell us the city or location where the devices are needed. This will help with giving you the best possible price.
You can also of course get our Tablet Hire in Spain and take the devices with you anywhere in the world.
Our iPad hire customers, big or small, are located all over the national territory in events of every kind and size. Our experience and knowledge of the market have positioned our company as the preferred providers of iPads in all the Spanish provinces
As an example, we constantly support the logistics of events from marketing and events agencies that launch products simultaneously in many cities in the country, using the iPad as their main tool. Let us know your logistics needs so we can help you better.
---
Tablet rental with optional accessories and security locks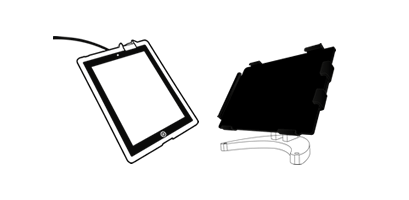 We carry many optional accessories for rent for iPads and tablets so you can fix and protect the devices against damage and theft. We offer special covers for our devices that allow you to handle them easily. We offer floor and desktop stands with security locks for our iPads and tablets so your audience can interact with the devices while they're secured.
Each iPad we rent comes in a black leather cover and its official Apple charger and USB cable.
---
iPad hire with us: how are the devices configured for your event?
With our iPad hire product you will receive the devices ready for use: fully charged, in a leather-like elegant black cover and with its original charger and cables. All devices are inspected upon return to our offices and its data deleted completely so the next customer receives the devices initialised exactly as they come from Apple, free of any restrictions or data.
Our iPad rental offering includes optional setup to the devices (usually for free) like:
Custom screen backgrounds
Free or paid apps (which we invoice)
Language of the iOS operative system
Wifi passwords
Other specific minor configurations
---
Tablet rent in Madrid, Barcelona, Seville, Bilbao, Valencia and the rest of Spain
We make our iPad for hire devices available everywhere in Spain. Madrid and Barcelona are the cities with more events and trade shows but we serve events of every size also in smaller cities like Seville, Bilbao and Valencia where a lot of indoor and outdoor events take place in trade show pavilions, parks and hotels, for example
The most common sites where our customers request the tablet hire product are: Parque ferial IFEMA, Hotel EuroStars Madrid, Palacio de congresos y exposiciones de Madrid, Hotel auditorium Madrid, Fira Barcelona, Gran via, Montjuic, Hotel Hilton Barcelona, Centre Convencions Internacional Barcelona, Palau Sant Jordi, BEC Bilbao Exhibition Centre, Hotel Barceló Bilbao, Hotel NH Bilbao, Fibes - Palacio de Congresos y Exposiciones de Sevilla, Hotel NH Central Convenciones Sevilla, Fincas y Bodegas en Sevilla, Ciudad de las artes y las ciencias de Valencia, Universitat Politécnica de Valencia, Hotel NH Center Valencia, among many. Our Tablet Rental is flexible and available to any company or event size. Send your request and we'll reply very fast with a quote tailored to your your event anywhere in Spain.
---
Related products and services for iPad
Our clients usually inquire about these other products for their events with iPads:
---
* We offer delivery of our iPads for hire in all Spain: Álava (Araba), Albacete, Alicante, Almería, Asturias, Ávila, Badajoz, iPad rental Barcelona, Burgos, Cáceres, Cádiz, Cantabria, Castellón, Ceuta, Ciudad Real, Córdoba, Coruña (A Coruña), Cuenca, Gerona (Girona), Granada, Guadalajara, Guipúzcoa (Gipuzkoa), Huelva, Huesca, Islas Baleares (Illes Balears), Jaén, La Rioja, Las Palmas, León, Lérida (Lleida), Lugo, iPad rental Madrid, Málaga, Melilla, Murcia, Navarra, Orense (Ourense), Palencia, Pontevedra, Salamanca, Santa Cruz de Tenerife, Segovia, rent iPad Sevilla, Soria, Tarragona, Teruel, Toledo, iPad rent Valencia, Valladolid, Vizcaya (Bizkaia) iPad rental Bilbao, Zamora y Zaragoza.