iPad rental for events and companies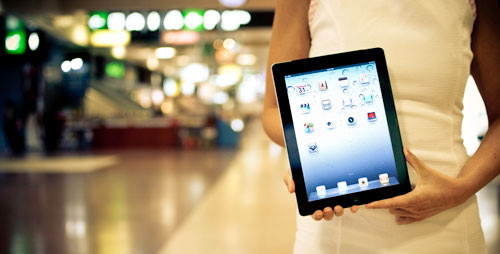 Do you need iPads for your marketing or corporate event? We offer a complete rental service, very competitive and of great quality so you can create an attractive and modern event.
The perfect tool
The iPad is the perfect tool to make your events shine:
Conferences
Trade shows and displays
Live voting
Catalogs
Data collection
Meetings
Scavanger hunts
Check-ins
Presentations
... y much, much more with one or a hundred iPads!
---
Our iPads
The iPad has a vivid 10 inches color screen, a great feel when you hold it in your hands and perfect internet or local network connectivity.
We have iPads and iPads Pro available for your event.
---
Internet connection through WiFi and 3G/4G/LTE
Our iPads can connect to any WiFi network made available by the organizer or can be "always-on" on the internet through a mobile service carrier via the best GSM networks in Spain.
---
Service in Spain* and throughout Europe
Let us know us where do you want the iPads to be delivered in Spain or Europe. You can also rent the tablets in Spain and take them with you anywhere you need to.
---
Accessories
Each iPad we rent comes in a black leather cover and its official Apple charger and USB cable.
We also provide tall and table stands with locks so your visitors can interact with them while they are safely locked.
---
Related products and services for iPad
Our clients usually inquire about these other products for their events with iPads:
---
* We offer delivery of our iPads for hire in all Spain: Álava (Araba), Albacete, Alicante, Almería, Asturias, Ávila, Badajoz, alquiler iPad Barcelona, Burgos, Cáceres, Cádiz, Cantabria, Castellón, Ceuta, Ciudad Real, Córdoba, Coruña (A Coruña), Cuenca, Gerona (Girona), Granada, Guadalajara, Guipúzcoa (Gipuzkoa), Huelva, Huesca, Islas Baleares (Illes Balears), Jaén, La Rioja, Las Palmas, León, Lérida (Lleida), Lugo, alquiler iPad Madrid, Málaga, Melilla, Murcia, Navarra, Orense (Ourense), Palencia, Pontevedra, Salamanca, Santa Cruz de Tenerife, Segovia, alquiler iPad Sevilla, Soria, Tarragona, Teruel, Toledo, alquiler iPad Valencia, Valladolid, Vizcaya (Bizkaia) alquiler iPad Bilbao, Zamora y Zaragoza.